World Charge Your Car Day
Tuesday, 5 October 2021 | Craig
October the 5th is world 'Charge Your Car Day', but what does this mean?
Well, it's a day when we should take the chance to make sure our car, campervan, motorhome and boat batteries are topped up and in a good condition.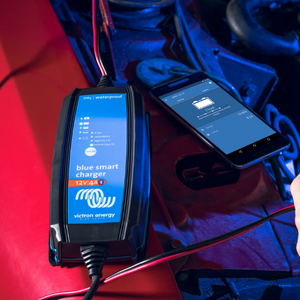 Batteries are typically maintained through regular use of a vehicle, so following the recent lockdowns and a decline in vehicle use there was a corresponding sharp increase in battery failures. The AA alone reported a 76% increase in breakdowns after the last lockdown period ended, with two-fifths of callouts being for flat batteries (Green Flag and the RAC saw similar increases). This highlights the importance of establishing a simple routine to manage our batteries and make sure we get the most from them.
Regularly charging of your battery will not only give you peace of mind but could extend its lifespan. It can even prevent battery failure which can potentially damage vehicle electronics and lead to costly repair bills. Modern, multi-stage chargers are an ideal way to keep your battery in optimum condition as they can be left connected indefinitely so will maintain your battery when your vehicle is not in use.
To make sure your batteries are kept in the best condition possible, we recommend following these simple steps ...
Invest in a good charger - A good multi-stage charger can make all the difference, allowing you to charge your battery to 100% and maintain it without the risk of damage. Investing in a good brand of charger can pay dividends as it will last longer, saving money in the long term and reducing environmentally-damaging waste.
Make sure you're charging correctly - All batteries will have an optimum recharging profile, so ensure that you set your charger up to match this. Providing your battery with the manufacturer-recommended charging profile will help increase the lifespan, speed up the recharging time & help prevent premature failure.
Quickly recover drain batteries - Whilst it is best not to allow a lead-acid battery to become fully discharged, if it does happen it is important to have a charger that can offer a recovery mode and for you to get the battery attached and charging as quickly as possible to minimise any lasting damage.
Get in the routine - If you are unable to leave your battery on charge permanently, make sure you get into the habit of recharging it regularly. A common rule of thumb is to charge once a month if your vehicle isn't being used, however, with newer lithium batteries you may be able to leave them a little longer.
Watch the weather - Weather plays an important role in battery charging and health, The colder a battery is the harder it will need to work, so if you see an extreme cold snap on the horizon it may pay to top your battery up to make sure your car starts first thing in the morning.
To help you maintain your battery charger, for today only (5th October 2021) we will be offering 5% off our range of mains battery chargers!