Who are Victron Energy?
Thursday, 24 February 2022 | Craig
Victron Energy is a brand many of our customers will be familiar with & if you're just starting you may have seen their name in forums, websites & Youtube videos. Today we're going to take a look at the brand and provide you with some background and information on why this particular brand is so well respected.
Victron Energy is a huge company in the off-grid, motorhome, campervan & marine sectors and has been a brand we have worked closely with for several years. Founded in 1975 by Reinout Vader, Victron is based in Almere-Haven in The Netherlands and quickly established a strong reputation for innovation, reliability & build quality in the design and manufacture of power conversion equipment. Focusing more on the off-grid market, they have quickly become the 'go-to' brand used by professionals.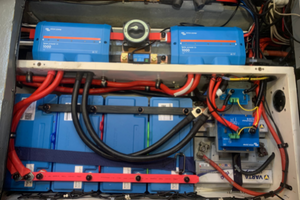 Victron has quickly become one of the most easily recognisable brands in a highly competitive market by creating products that push the envelope in the mobile power sector. With features like Bluetooth connectivity, Internet Portal (for off-grid management) & software-driven charging solutions, Victron continues to develop its range to make it more functional and beneficial for consumers.
Recent innovations include the Orion DC-DC Charger. Although somewhat late to the market when compared with other brands, Victron took the time to work on a software-based solution to help make installation easier. Using the software to detect when your engine is running, the unit does not need a D+ or ignition connection which has often made installations more complex with other brands of DC-DC charger. The Victron Connect app allows you to interface with much of its product range via Bluetooth for further configuration & monitoring, making its products very versatile and easy to set up. Victron Energy is working on continual improvement and expansion of its product range for the campervan, motorhome, RV & marine sectors but is also looking at home battery storage, which is a growing market.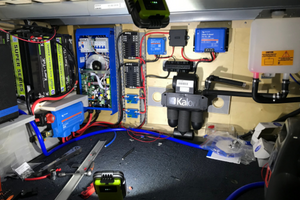 Victron Energy continues to forge the way with highly innovative products, a 5-year warranty across the range, proven reliability & excellent technical know-how; so it is easy to see why they are so well trusted & respected.
We hope you have found this insight into Victron interesting and, in conjunction with this article, we are hosting a special offer on selected Victron products for a limited time only. You can 'mix & match' any 4 selected Victron products and save £50; so now's the time to look at investing in Victron for your next project!
Images by Allan Burnell, David Mahoney & Paul Chaplin