New products for November - Warning lights, switches, bulb connectors and more...
Thursday, 31 October 2013 | Paul
No rest for the wicked on Halloween here at 12VP HQ. We've been busy adding new products for November, this time in the form of warning lights, various switches, high temp ceramic bulb connectors, ignition cable and more. Here's a summary of them (find out more in our NEW PRODUCTS section)
Coloured warning lights with chrome bezels - low profile and discrete
LED warning lights with a chrome bezel. These tiny lights give that classic look in a very compact package.
Door switches of various types (can also be used as bonnet/boot alarm switches)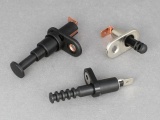 Push-Pull switches with bulb-illuminated coloured lenses.
Blade terminal splice connector for neatly creating an in-line splice in a cable
4 position universal ignition switch - perfect for kit car or modified car fitment
Key operated alarm switch with hinged cover - for activating alarm systems when you leave the vehicle
2 types of push-button starter switches with rubber covers to protect them from the elements
Ceramic halogen bulb connectors that won't degrade under high temperatures
PVC ignition (High Tension) cable by the metre or in 30m/100m reels; ideal for making up spark plug leads in the correct lengths to suit your vehicle (ignition crimp terminals and boots coming soon).