Mixing 24 Volt & 12 Volt Systems
Thursday, 4 August 2022 | Craig
A topic we have seen cause some confusion is the mixture of 24V and 12V systems.
We typically see this in larger vans that have 24V starter battery set-ups (2 x 12V batteries connected in series) but the customer wants to install just one 12V battery or appliance in the living area. So is there a way to mix these two systems safely?
Charging from a 24 volt system to a 12 volt system
So, the main issue with having a 24-volt starter battery and a 12-volt leisure battery is charging from the alternator. Using a split charge relay (VSR) would just send the alternator's 24V charging voltage to the 12V battery which would cause damage. Instead, you would need a 24 volt to 12 volt DC-DC charger. The unit takes the 24V charging voltage and adjust it to a suitable rating for the 12-volt battery. This system will then adjust this output voltage depending on the battery's state of charge, whilst keeping it within the accepted range for 12-volt batteries.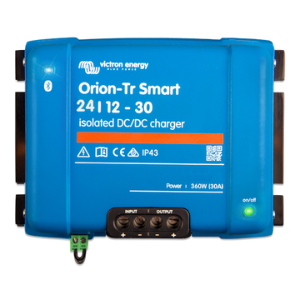 Running 12 volt appliances from 24 volt battery system
Another set-up we've seen is when a customer has a 24V leisure battery system but wants to run some 12V appliances. For this we recommend a DC-DC converter (otherwise known as a voltage dropper), Unlike a DC-DC charger, these won't produce a charging voltage and can't be used to charge a battery, but instead will produce a stable 12-volt output for you to run your 12V appliances. These converters are rated in terms of the current draw they can handle, so it is worth noting this when looking into which DC-DC converter might be suitable for your needs.