Interview with Lowland Rescue Oxfordshire
Thursday, 21 April 2022 | Craig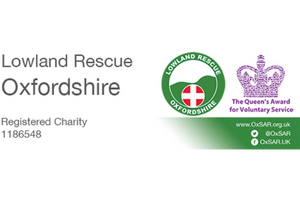 Today we sat down with the chairman of Lowland Rescue Oxfordshire, Marcus Nurton, to discuss their services and the work they undertake within the local community. We've proudly supported Lowland Rescue Oxfordshire over the years with advice and components and, later in the article, we'll let you know how you can support your local branch of the Lowland Rescue.
12 Volt Planet: Thank you Marcus for taking the time to take part in this interview today. Firstly, can you tell us a little about Lowland Rescue Oxfordshire and the type of help you offer?
Marcus: Yes well, we're a voluntary search and rescue team assisting Thames Valley Police in the search for vulnerable missing people in and around Oxfordshire. We are one of 35 Lowland rescue teams across the UK that fills the gap between the RNLI and Coast Guard, and Mountain Rescue.
We also work alongside Oxfordshire Fire and Rescue Service, in the event of severe flood incidents, and Oxfordshire County Council Emergency Planning to provide support across the county in extreme events.
12 Volt Planet: Brilliant, well we thank you for all the help you offer. So with the roles you undertake, what vehicles are used by Lowland Rescue Oxfordshire and why are they so important to your work?
Marcus: We have 3 vehicles in our operational fleet. Our main Incident Command Unit houses our computers with mapping software and radio technology to plan and manage searches.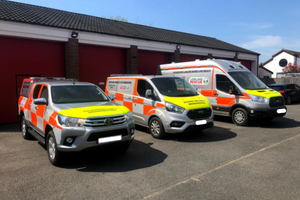 It is backed up by two support vehicles, a Transit custom, which was fitted out in house, with the support of 12 Volt Planet, carrying our water rescue equipment, scene lighting, and a secondary laptop and printer for smaller incidents.
Our newest vehicle is a Toyota Hilux, for 4x4 support to access remote locations, transport team members, and launch our largest rescue boat to local rivers and lakes.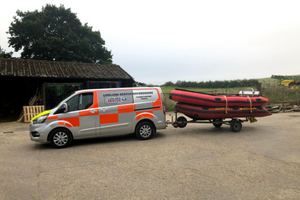 12 Volt Planet: We were very glad to have helped with your support vehicle. So, can you explain to us why is 12V power so important for your operations?
Marcus: The advantage 12V power brings to OxSAR is the ability to operate from our onboard batteries & inverters for approx 4-8 hours before the need to use the generator, this is ideal for when we are operating in the early hours of the morning in populated urban environments. Our vehicles are fitted with scene and task lighting. Flashing emergency lights for scene management and escorting our search teams along highways, and onboard power for laptops, printers, and charging equipment such as batteries and lighting.
12 Volt Planet: So with the advantages & importance of 12V power, what challenges have you had to overcome regarding your energy requirements?
Marcus: We carry a lot of equipment to cover every eventuality, so space and weight are at a premium. We have to juggle this with battery power and longevity, so spec'ing the right equipment has been key.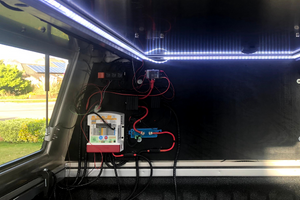 Our support vehicles rely solely on batteries charged via solar panels on the roof, and a split charge system from the main vehicle alternator suitable for shorter operations where the main command unit is not utilised. Battery capacity has been key, along with a split charge system to ensure our vehicle batteries do not discharge too far and stop us from starting the engine.
12 Volt Planet: So when out on a call, what type of environments are your volunteers often in?
Marcus: We can be tasked anywhere, setting up RV points in town-centre car parks, right to the remotest of woodlands or farmland. We're often required to search large areas of woodland or several miles of water courses and river banks.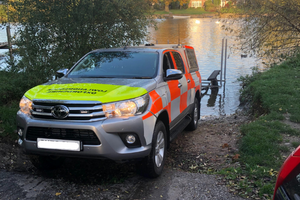 12 Volt Planet: And we know from our conversations in the past that this can be in any weather, so it can be very tough out there for your volunteers. Finally how are Oxfordshire Lowland Rescue planning for the future (with climate change, EV vehicles & post pandemic)?
Marcus: We're fortunate to run a modern fleet of vehicles, so other than minor adjustments and maintenance, we don't for see major changes. The choice of EVs in the commercial sector is still in its infancy, but our Control Vehicle is due to be replaced in 2026, so we're sure the technology would have developed enough by then that all electric could be a serious consideration. We are currently looking at adding a new boat to the fleet with a small electric outboard. This will bring significant improvements in terms of lower weight, reduced noise and emissions. We have remained operational throughout the pandemic and, as restrictions ease, we look forward to returning to fundraising and PR events, meeting the communities we serve across Oxfordshire.
12 Volt Planet: Well, I would like to thank you again Marcus for spending the time to take part in this interview.
Marcus: You're welcome
To find your local Lowlands Rescue team visit here & you can read about the Oxfordshire Team here.