Guide To All-In-One 12 Volt Wiring Kits
All-in-one 12 volt wiring kits are extremely popular with a lot of newcomers to DIY campervan or motorhome conversions. These are often seen as an easy starting point for many installations as they typically coming pre-wired with terminals crimped and all the other equipment needed to get you started with a 12 volt electrical set-up. However, even though they are designed to simply plug-&-play there are certain things to be aware of. In this guide we will review the items that are typically found in these popular installation kits and look at some of the things to consider when buying one.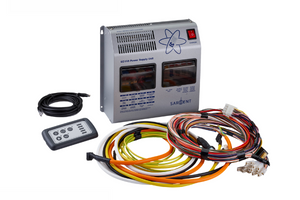 What's typically found in a wiring kit?
Firstly, we will run through the kinds of items you may find in a 12V system wiring kit & explain a little about how these items fit to create your electrical set-up.
Distribution Box - Typically the nerve centre of the kit that connects to your battery and safely manages all loads (circuits) and charging sources in your system
Consumer Unit - Allows you to connect safely to 240V AC by protecting connected circuits from overload
Mains Battery Charger - For recharging your 12V battery when connected to 240V AC
VSR - For charging your leisure battery from the alternator when the vehicle's engine is running
Control Panel - This allows you to control certain parts of the system such as lights, pumps etc. & see information such as battery voltages, water levels etc.
Cable - Usually ready-made, pre-terminated harnesses for interconnecting the individual components
Water tank probes - To measure clean and/or waste water tank levels
This is an example of a typical kit and the contents might differ, so we recommend always checking the with the supplier before purchasing to make sure you are happy that the kit is going to meet your needs.
The Distribution Box
The nerve centre for the kit manages all power in & out of your batteries and provides any panels with information. These boxes may contain built-in fuses to provide protection and come pre-labelled for specific uses such as lights, pumps, fridges etc. Connections for both the starter & leisure batteries allow the distribution box to send and receive power to both batteries. Connections to your 12 volt equipment will often be made by plugging in a connector on the supplied wiring harnesses to a matching connector block in the distribution box, meaning connections should be quick, easy and error-proofed.
Consumer Unit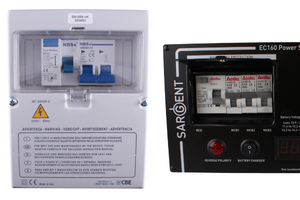 This may be built into the distribution box or provided as a separate piece of hardware, depending on the manufacturer of the kit. The consumer unit will allow you to hook up to a 240V mains feed safely & will come with built-in circuit breakers & an RCD. These will allow you to install 3-pin sockets and hardwire any mains battery charger provided with the kit (often via the supplied wiring harness). This unit is best fitted by a qualified electrician due to the safety requirements involved when installing 240V equipment.
Mains Battery Charger
Once connected to your consumer unit or distribution box, the charger will keep your leisure battery topped up when connected to 240V. These chargers will come in one size so it is worth making sure its output is suitable for the battery or batteries you intend to install. The rule of thumb for lead-acid batteries is for the charger's output in Amps to be no more than 20% of the battery's capacity in Ah, e.g. a max. 20A charger for 100Ah battery. Chargers provided as part of a kit are also typically very basic and not suitable for all battery chemistries, so if you are looking at lithium batteries now or in the future you would need to swap this basic model out for any more advanced mains battery charger purchased separately. To read up more on mains battery charging read our knowledge centre article here
VSR (Voltage-Sensitive Relay)
A voltage Sensitive Relay is typically integrated into these systems to charge the leisure battery when the engine is running (or when another charging source is present on either battery, e.g. mains charger or solar charger). Unfortunately, these are not suitable with newer Euro 5 or 6 complaint vehicles or mixed battery chemistries (e.g. lead-acid starter and lithium leisure). In these instances, a DC-DC (Battery-to-Battery) charger would need to be installed which may require some bypassing of the VSR system in the kit, and details would be provided by the manufacturer.
Control Panel
A control panel supplied as part of a kit would allow you to activate and deactivate certain parts of the system, based on their configuration. Typically, these would be lights, pumps, fridge etc. however, different options may be available depending on the manufacturer and kit type. The panel may also include some type of battery monitoring system, such as a voltmeter, to show the battery's state of charge, or tank level meters for any fresh and/or waste water tank systems the kit is compatible with.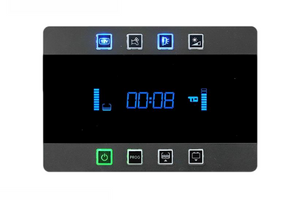 Cable & Connectors
Kits will normally include a whole harness to connect everything together which will have connector blocks and terminals already pre-installed. This enables very rapid connection of the 12 volt equipment to the distribution box which is easy and with little room for errors. These cables are often sized specifically to the length provided so extensions would likely require an increase in cable size to prevent voltage drop.
Important things to keep in mind when buying a 12 volt installation kit
To help you when looking at wiring kits online here are a few simply things to keep in mind when purchasing an all-in-one system...
Is the kit suitable for my vehicle? (Is my vehicle Euro 5/6 and, if so, can I add a DC-DC charger?)
Are the charging systems in the kit suitable for my battery chemistry?
Is the charger the correct size for my battery?
Does the control panel have the features I require?
Is the supplied harness long enough or will I need to extend the cables?
Every 12 volt installation kit will come with detailed manuals to help guide you through each step of the installation. These wiring kits can be excellent for first-time users, especially those with Euro 4 or older vans who are looking for an easy & simple set-up, but owners of newer vehicles should look carefully at the kit specifications to check that it will be compatible with their setup.
We hope you have found this guide helpful but should you require any further help please do not hesitate to get in touch with our team.