Campervan Converter Interview with YouTuber ThatVanJolene
Thursday, 14 October 2021 | Craig
Today we sat down with Killian who hosts the content creator behind ThatVanJolene. Killian & His Girlfriend undertook the bold project of converting a van during the pandemic with no experience, We've enjoyed working with them on there build & thought you would enjoy hearing how they have found the experience.
12 Volt Planet: Good morning Killian, Can you start by telling us a little about yourself?
Killian: Hi, I'm Killian and I run the YouTube channel 'That Van Jolene'. Myself and my girlfriend Rosanna have been converting a 2014 long wheel base Mercedes Sprinter van into a tiny home. We're both in our 20s and both love adventure.
During the first lockdown, I actually lost my job - I was made redundant. At the time, I felt a little lost so I decided to put all my energy into a new project. I pitched the idea to Rosanna who I knew wanted to travel, and she loved the idea of a van project. So we spent months researching and eventually we bought our van Jolene together and started this adventure.
Neither of us had any prior DIY experience and we both agreed that it might make for some entertaining viewing so we agreed to only use YouTube tutorials to learn the skills we would need at each step, and we also filmed and shared everything we did to YouTube- mistakes and all.
We've really enjoyed building our van, and would recommend anyone to take on a project themselves- you'll surprise yourself at how much you can teach yourself with YouTube tutorials. The feedback we've had has been so positive and we just can't wait to get Jolene finished and hit the road.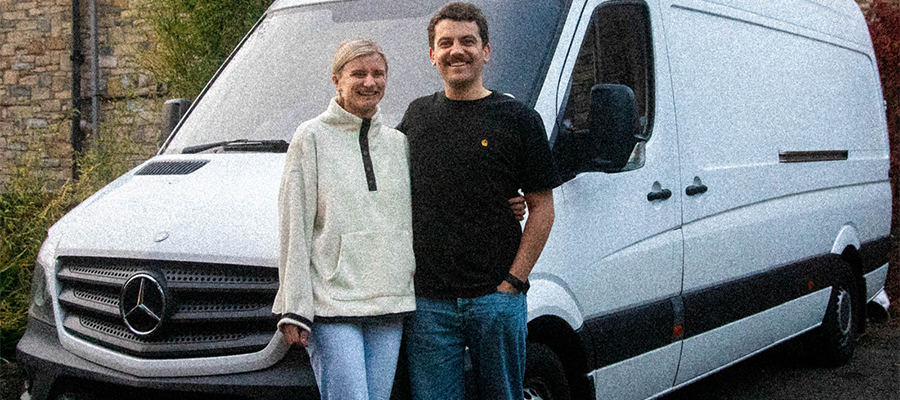 12 Volt Planet: What vehicle are you currently converting and what made you choose that one?
Killian: We're converting a Mercedes Sprinter van. When we were searching for the van, we had some key requirements.
Make / Model: After doing some research, we discovered Sprinters were a really popular option. In general, they have a good reputation in terms of reliability and also, because they're so popular for camper conversions, we figured there would be lots of online tutorials if we got stuck, and also lots of easily accessible spare parts online. We figured it would hold it's value well too.
Length: We decided to go for a long wheel base as we thought the extra space inside would make a big difference if we were to live in it for a month or two at a time. We really liked the idea of installing a shower / bathroom inside, so a bigger van was ideal.
Mileage: We didn't want a van with high mileage. We figured that we'd be investing a lot of money in the van, so it made sense to buy one with lower mileage so that if we ever decided to sell it, hopefully it wouldn't have crazy miles even after we'd done a few road trips.
Year: We decided to go for 2014 onwards because the sprinters got a facelift in 2014 then which I was a big fan of.
It took us a while to find a van that hadn't been bashed around and abused. We actually got a mechanic to check one van we thought was great value, and they discovered that van had been previously crashed and repaired (we had no idea). Definitely get someone to help view the van who has experience in the trade, it'll might cost you £100 or something, but will save you a lot if you avoid buying a van with issues you didn't spot.
12 Volt Planet: What is the one piece of advice you would have for anyone tackling 12V electrics?
Killian: The biggest piece of advice I would give is to take your time with it. Don't put pressure on yourself, just take the time to learn everything before you map our your build – no matter how big or small. There is no better feeling than connecting something with total confidence because you know what you are doing.
If you're unsure of anything, firstly do some research online- probably others have asked similar questions on forums and you'll find answers there or on YouTube. And finally, it's definitely worth getting a qualified electrician to help you or supervise you if you're unsure. We did with our build, and it was nice to get a second opinion.
It's all pretty straightforward so believe it or not, it is actually very satisfying to learn about!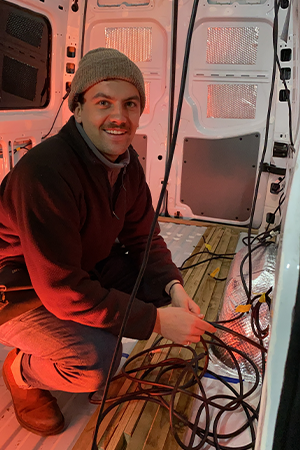 12 Volt Planet: What have you learnt tackling the conversion yourself?
Killian: The biggest thing we've both learnt is how capable we are, despite having no previous experience. We've massively surprised ourselves how quickly we learn new skills and can overcome problems with the build. We always tell friends and family who ask, if we can do it then so could anyone.
9 months ago when we started, I'd genuinely never used a drill or a saw before let alone wired anything before. Now I'm doing all the joinery in the van without any need for a tutorial, and our electrics work perfectly- it's amazing how much we've come on!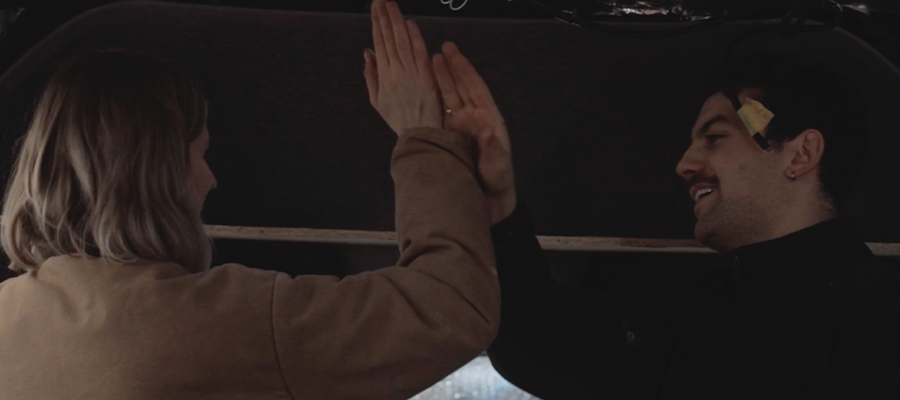 12 Volt Planet: How did you pick the name Jolene?
Killian: When we were starting our build, we did some suggestion post's on Instagram where people could suggest names for the van, and then we picked our favourites and let people vote for their favourite name via Instagram poll.
The two finalists were Martha and Jolene, and being a big Dolly Parton fan - I did have a secret favourite! But the people had their say anyway and the van was eventually named Jolene!

12 Volt Planet: What is your current Electrical set-up?
Killian: We've gone for a fully off grid system, so we've got no mains hook up at all. We're not planning on staying in campsites much so we figured solar and DC/DC charging would be sufficient- we have a two way charger which takes power from the solar and also from our alternator and then intelligently charges the leisure battery.
We've got 3 x 160 watt semi flexible solar panels on our roof. We are building a roof deck, so semi flexible were a good option as we can walk on them if needed. We've gone for one big lithium leisure battery. I have a vintage car and I am sick of AGM batteries! Lithium batteries have a better life expectancy, and can be drained to 100% without damage to the battery so it means less space taken up by batteries in our van. They're a bit more pricey, but we felt they're a better investment.
We've also got a smart shunt which we can connect to with Bluetooth to monitor our battery levels- this is really handy!
12 Volt Planet: Thank you Killian, for taking the time to sit down with us today.
Killian: Big thanks to 12 Volt Planet for supporting us and providing the community with such great info and tutorials! The community needs more companies like you to support and work with!
12 Volt Planet: Well we really appreciate those kind words and it was our pleasure to help.
To see Killian & Rosanna learning all about how to convert a van into a camper visit them at the links below.
YouTube: That Van Jolene - YouTube
Instagram: That Van Jolene
Facebook: That Van Jolene | Facebook
TikTok: that_van_jolene