Storing your Campervan / Motorhome this winter
Thursday, 11 November 2021 | Craig
Some of us may decide this winter is simply too cold for adventures in our beloved motorhome, caravan or campervan, but how can we make sure they're in top shape when the weather does improve? In this article, we'll take you through a few things to keep in mind when thinking of parking up for the long winter period.
Where to store your vehicle?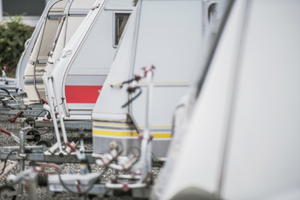 For those lucky to have a garage, drive or another form of storage space you may decide to have the vehicle at home. If space is limited, however, several storage compounds around the UK will allow you to store your vehicle with the extra benefit of security such as CCTV or Guards. The Caravan & Motorhome Club has a list of sites that may be suitable for your vehicle.
When storing your vehicle it may also benefit you to look at a wheel clamp or pedal clamp to offer further protection, especially if you're storing the vehicle on your drive with no security. Things to check when looking at a storage site are...
Security (guards, gate entry, CCTV etc...) - The more secure the facility has the better protected you will be, so it is worth paying extra attention to make sure you're leaving your vehicle in a safe, secure spot.
The ground should be hard - A wet ground can bog down your vehicle, making it harder to move.
Lighting - A well lit facility will offer better protection and provide you ample light should you need to check the vehicle in the evening.
Battery charging facility - Battery health is key in winter so, ideally, you will want this feature to keep batteries in good health without the need to remove them.
Overhanging objects - Objects falling on your vehicle may cause unwanted damage. Falling leaves can also be a nuisance so it is worth checking you won't have anything over the vehicle.
Vermin Control - rats, mice & other vermin can cause a lot of damage to motorhomes. Sadly, this damage may not be covered by insurance.
Ease of access - Lower levels of security may mean it is an easier target for thieves, but it might enable you to check in regularly throughout the winter period.
Preparation for Storing
Preparing your vehicle for storage is important as this can prevent frost damage, mould & damp from becoming a real problem. Water systems are prone to freezing so draining the whole system, including taps & heating systems, is vital to ensure no damage during a cold snap. Most manufacturers of water systems will have some drain feature to help facilitate this exercise so it is worth checking your manual and familiarising yourself with this process.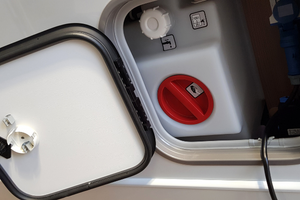 Damp & mould can be a huge problem in winter, damaging soft furnishings and harming electronics. The best way to combat damp is to provide warmth and a flow of air through the vehicle. Heat is difficult to provide when your vehicle is in storage so making sure your ventilation is as good as can be is the best way to minimise damp & mould. Roof fans/vents will offer some ventilation but you can add dehumidifiers or drying salts if you feel the vehicle is particularly at risk.
We would not recommend a cover for your vehicle as this tends to hamper ventilation & increases the risk of mould.
We would recommend opening any cupboards, lockers or boxes just to prevent air in them causing dampness & mould. Before storing the vehicle is may also benefit you to go for a drive with the windows open on a bright, dry day to dry and ventilate the vehicle.
Cleaning your vehicle will also help prevent mould & dampness so it is worth making sure you remove all traces of food (especially those pesky crumbs that fall behind the seat cushions & carpets). Making sure your fridge is clean, empty & with the door ajar will also help keep it ventilated meaning less risk or mould. Removing all soft furnishings will also help reduce dampness & make the vehicle less appealing to thieves.
Vehicle Checks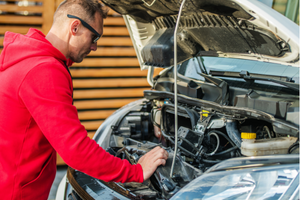 With the inside cleaned and prepared for storage, now it's time to look at the vehicle itself. There are several things to bear in mind in this part to make sure your vehicle is in prime condition the next time you go to use it. If you have a handbook it would pay to look in there for any advice for prolonged inactivity, This could be an increase in tyre pressures to prevent them going down and flat spots forming, or an increase in strength of windscreen wash. Your vehicle should ideally be moved regularly to avoid moving parts seizing and reduce the load on one section of the tyres. If you can jack the vehicle up this would be ideal as it would reduce the weight and offer extra security.
Checking your antifreeze level is is very important to help keep your engine in top condition.
Battery Power
Leaving your vehicle sat for long periods can allow your batteries to become totally discharged and potentially damaged. If you have permanent loads connected to these batteries the rate of discharge will increase . If you can take the vehicle out then a good drive will help top the batteries up, however, this may not be practical. Having a solar panel feed a trickle charge to the batteries is great as this will keep the batteries maintained. It would need no intervention by you and you would not be charged by the storage facility for power. A mains charger with a float function that can provide a maintenance charge would also help prevent your battery from going flat and becoming damaged during the winter (see our range of mains chargers here).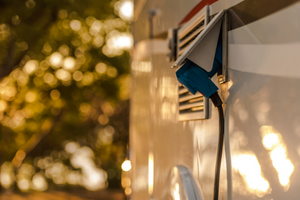 Gas
If you have installed gas it is important to make sure your valves on the gas cylinders are closed or disconnected. Some sites may allow you to store the gas cylinder in the gas locker so it would be worth asking the questions when looking at the site.
Quick Check List
So now we have explained some key areas to check here is a brief checklist of these and some other items to look at when preparing your vehicle for winter storage.
Water tanks & taps emptied.
Valves open on tanks and Gas Cylinders
Toilet emptied and cleaned
All Food & Drink taken out of the vehicle
Through cleaning of the interior & exterior
Fridge cleaned & left ajar with compartments removed
Soft furnishings removed where possible
Battery charging set-up
Anti-freeze topped up
Tyre Pressures changed (typically increased)
Security clamps installed.
Periodic checks & drives where possible.
We hope you have found this helpful.