Connecting Multiple Wires
Wednesday, 29 September 2021 | Craig
Today we will be looking at making multiple connections. This is something that can be handy when trying to reduce the number of messy wires you will have in your vehicle, but one that can cause a lot of confusion to 12 Volt newcomers.
So first, what are the benefits?
As mentioned at that start, it can help make your cable set-up a lot neater by only having 1 cable from the battery instead of 5, 10 or even 15. The second is reducing cable size.If we have a large cable feeding multiple connectors at our longest point from the battery it means we can use a smaller cable from that to the appliances we are looking to run. This can help cut down on cost & weight.
There are lots of different types of multiple connection solutions and some will meet your needs and some may not. Understanding the various types will help you to select the one best suited for your installation.
Piggy Back Terminals
These terminals are made with a piggybacked blade which provides you with an additional connection point. These terminals are used in lots of installations to splice off of cables to help support multiple outputs.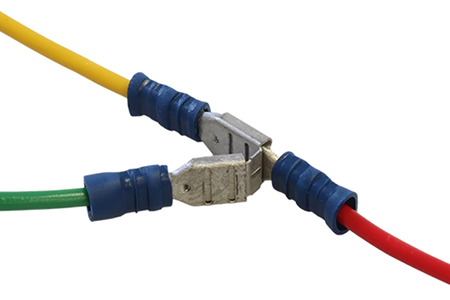 Terminal Blocks
Whilst some only offer connections to independent circuits, some terminals blocks offer the ability to share power across multiple outputs either using a metal plate inside the block that's connected to each entry or by using jumpers to connect the once separated terminals together.
Busbars / Powerposts
Busbars and Power Posts are ideal for connecting multiple items to a high-capacity, common feed cable and are essentially a large piece of metal with various connection points or a single vertical post for multiple connections. Sharing the power across a large metal plate, these are very common in helping distribute power from the battery as they can handle high currents.
Are there any problems to be aware of?
So with these types of connections there are few things to keep in mind. Firstly, you'll want to make sure the cable from your battery (or DC power source) can handle the total current that'll be drawn from the busbar. (i.e. if you have 2 lights at 1A, a fridge at 5A and a USB socket at 3A your cable from the battery would need to be able to carry 10A from the battery to busbar/terminal block/terminals).
You would also need to make sure the busbar/terminal block/terminals can handle this current, along with any inline fuses. Future-proofing the busbar may also benefit you if you think you might want to add circuits later on. The last thing you want is to have to install a new busbar because you are 5A over the capacity of your existing one.
Fusing Multiple Connection
Ideally, any new positives should be fused so you should have an inline fuse from the battery to busbar/terminal block/terminals & then fuses on each cable coming off to your appliances. Some fuseboxes will help manage this by having an internal busbar, allowing you to connect a single power cable to the fusebox and then have multiple circuits fed from it, each protected using a built-in fuse.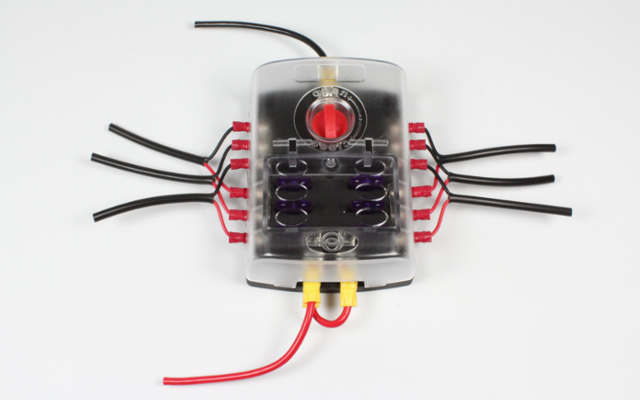 We hope you have found this article helpful, but if you have any further questions please get in touch with our sales team on 01844 885 100 or at sales@12voltplanet.co.uk