Anderson Power Connectors and accessories now available...
Friday, 28 February 2014 | Paul
Anderson Power Products are a leading provider of high current connector solutions and we are pleased to announce that we have started stocking their popular SB range of double pole connectors and accessories.
Anderson SB connectors
The SB range of connectors have become an industry standard for the simple, quick connection and disconnection of high current circuits for applications such as battery charging, jump starting and welding. The clever genderless design means that 2 identical connectors and terminals are used on each side of the connection; simply flip one of the housings upside down and push the two connectors together.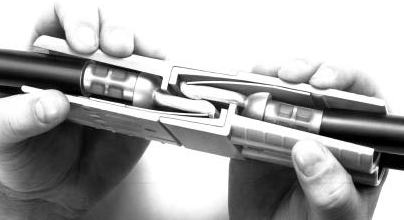 The terminals of each connector slide over each other in a' wiping' action when the connectors are mated , meaning that the contacts surfaces are automatically cleaned with every connect-disconnect cycle. The design ensures a low assembly force but a high terminal contact force acting at 90 degrees to the direction of mating, thanks to the stainless steel springs integrated within each connector housing.
The tough polycarbonate material used for the connector housings ensures that they will withstand rough handling and feature moulded polarity markings to help ensure your cables are matched correctly. They are also mechanically keyed, meaning that only like colours will mate together to prevent cross-connection of different circuits.
The copper terminals are silver-plated to provide excellent conductivity and are good for 10,000 connect-disconnect cycles.
We are stocking SB connectors in the following current ratings:
SB50 / 120A with terminals for 16mm2 cable
SB175 / 280A with terminals for 25mm2 and 35mm2 cable
SB350 / 450A with terminals for 50mm2 cable
Note that SB50, SB175 and SB350 connectors were previously rated at 50A, 175A & 350A respectively but have recently been uprated following UL testing by Anderson.
See all of our SB connectors here.
Anderson SB connector accessories
A range of accessories is available for the SB connectors: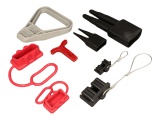 PVC cable entry sleeves - These soft flexible sleeves fit over the cables and slide up over the body of the connector to prevent moisture and dirt entering from the cable side. They can be cut to size to suit the diameter of the cable being used and provide improved grip for assisting in connection and disconnection.
Rubber connector covers - These moulded rubber covers fit over the terminal end of the connector to prevent dirt and moisture getting in when the connector is stored and have an integrated loop that grips around the connector body to ensure they don't get lost when the connector is in use.
Plastic connector covers - These covers fit inside the terminal end of the connector rather then over as the rubber covers do, so are more compact. They come complete with a wire rope lanyard attached to prevent them being lost while the connector is in use.
Handles - Handles are available for all connector sizes and attach to the connector housing using the supplied fixings. These provide additional grip to disconnect the mated connectors and are particularly recommended for the larger SB175 and SB350 connectors.
See all of our SB connector accessories here.